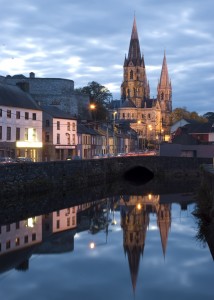 Fordes operate a complete funeral service from their premises in South Gate Bridge. We have a highly trained, devoted team of funeral directors and staff. Every family member is given our complete attention and every effort is made to guarantee that the funeral service is meaningful and personal to the family concerned.
We encourage families to spend some time with their deceased relative / friend in the comfort of our private reposing rooms / chapels of rest, both of which are designed to create a peaceful and tranquil atmosphere.
During your challenging time of bereavement, we at Fordes Funeral Homes strive to offer a full funeral service. We offer both a specialised and a personal service to you in your difficult time. We get to know our clients on a first name basis for a personal service. At Fordes Funeral Homes we always offer to visit to your home and organise all the relevant preparations in your own familiar surroundings if you wish. Fordes promise you peace of mind about the funeral preparations. As funeral directors, we focus on removals and funerals straight from your home if required.
Call us at 021-4318222